Please try to keep your phone camera aligned with the spin button on the rotator.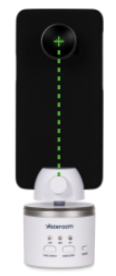 Set the rotator to a height of 3'9" to 4'2" feet on a stable stand by fully extending the tripod legs.
Make sure that the stand is stable and perpendicular to the rotator. If it is not straight, it will cause the entire 360° panorama to skew.
*Tips for choosing a tripod : We recommend using Asteroom's stand provided in the kit to avoid shaking and skewing caused by the rotator with the phone attached. This affects the quality of the panorama. This will allow you to also get accurate measurements within the tours.